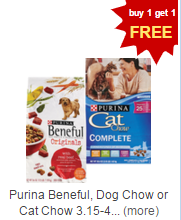 CVS has a great deal on Beneful dog food and Purina Cat chow this week (through 3/5) and we have some good printable coupons to use on this one!
Beneful is on Sale Bogo for $6.99, CVS allows you to use a BOGO manufacturer coupon on top of that, so you can get up to 6.55 off with this printable coupon…


…making two bags only 45 cents plus tax.
Cat chow is on Sale Bogo for $5.79 and we have a $1.05/1 printable. CVS allows you to use two of these, even if the store sale is Bogo, so you'll pay 1.85 per bag plus tax.
However some of us have $2/1 cat or kitten chow coupons from writing to Purina, which will lower your cost to 90 cents plus tax per bag. So if you are one of the lucky ones with those coupons, head over to CVS and score some good deals.
We for sure did send the human shopping last night =^.^=