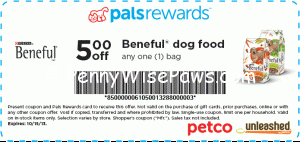 Wow Petco is really generous with grrrrreat coupons right now!
We have a new printable store coupon 5/1 Beneful any size!
AND
a NEW FREE can of Friskies printable
This is pawsome news!!!!
The small bags of beneful run 5.59-7.99 depeding on your store and variety, so you can score a bag of dog food
for as low as 59 cents or up to 2.99, depending on what you find in your store! Our store frequently has the Beneful for 5.99,
but last time we checked they had raised the price to 7.99!
If you can find a small bag of the Healthy Smile variety (not all stores carry this one yet), you can even stack
a Manufacturer coupon: 1.50/1 Purina Beneful Healthy Smile Dog Food, adult, dry 8/4/ SS
So you potentially might end up with FREE Beneful!
There are also peelies out there for a FREE tub of Beneful wyb dry food, so if you have those, you can stack free wet food on top!
AND we have: FREE Beneful Healthy Smile, dental dog snack, up to $4 WYB dog food, adult, 3.3 lb+, 08/04/2013 SS Insert (exp 09/04/2013)
So you could potentially score a bag of dog treats if you prefer that to wet food or don't have the peelie!
Also on that same page, we have a NEW FREE can of Friskies printable!!
This is different from the other one here, which is either for Friskies or Fancy Feast!!
Plus don't forget we have a free can of Wellness as well!!
That makes 3 canned food freebies at Petco now!  And the new ones won't even expire until October!!!
Make sure you print or save!!! Petco likes to change links on us!!
And we can use those Freebies to get to 25$ when we get the next 5/25 in September!!
Purrrrrrrs!!