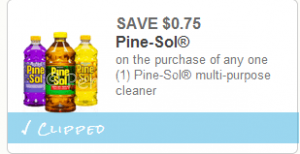 We just spotted a new 0.75/1 Pinesol printable coupon!!
Pine-sol is on the wishlist of AZSDR and many other rescues out there!
We currently have no deal for this yet. But we recommend to print and hold, if you want to purchase this as a donation item.
If you need it quickly your best bet is probably Walmart at 1.97, so 1.22 after coupon.
We would recommend to print and hold, Pinesol often goes on Sale at Frys for 1.49 and will only be 49 cents after coupon!!
The human has a rain check for this item, so we know where we will send her 😉
This post may contain affiliate links. Please see our disclosure policy.