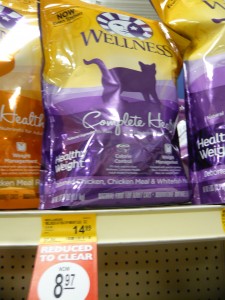 Wellness dry cat food 8.97 use 5/1 printable to get it for 4.97, or use the 3/1 newsletter print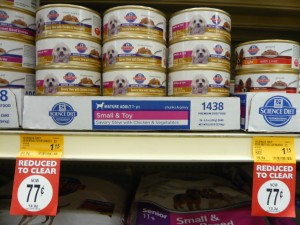 Science Diet Dog food 0.77/can use B2G2 printable to get them for  39 cents each wyb 4
Iams woof $1.37/tub and Iams cans $0.97/can, use 2/3 Iams wet dog food and stack with B2G1 Iams Wet Cat Or Dog Food, Any – 02-16-14 RP
Deal Idea: Buy 9 and use 3x B2G1 and 2x 2/3 Iams prints and pay 1.82 for 9 cans (20 cents/can) or 4.22 for 9 tubs (47 cents/tub)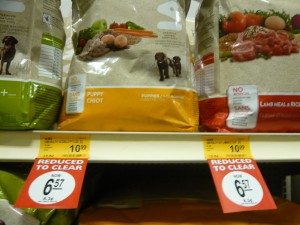 Iams dry dog food 6.57 use 2/1 Iams dry dog food to get it for 4.57/bag (some of us have 4/1 flyer coupons from the vet, so check your stash!)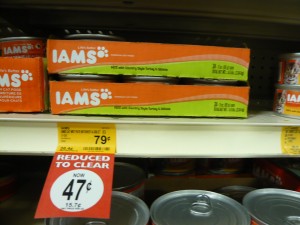 IAMS wet food 0.47/can, use 2/3 Iams wet dog food to get them better than free (but make sure you have other items in your basket to which the overage will be applied!), Petsmart will not give cash back or apply to tax! The coupons will just mark down, so do make sure you have other items to offset the overage! We had the human buy kittie litter with our overage 😉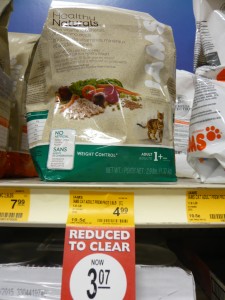 IAMS dry cat food 3.07 use 2/1 Iams dry cat food to get it for 1.07/bag
Wellness wet cat food 0.87 and 1.07, use 1/1 printable coupons from the newsletter to get them better than free or 0.07 cents each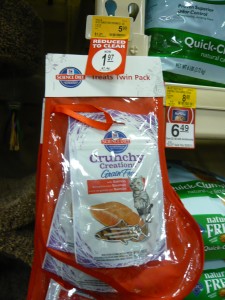 Science Diet holiday packs cat treats 1.97 for a double pack, use B2G1 printables to get 3 double packs for 3.94 (66 cents per single pack). If you have the 2/1 tearpads from the SD rep, you can stack with the B2G1 and score them for free!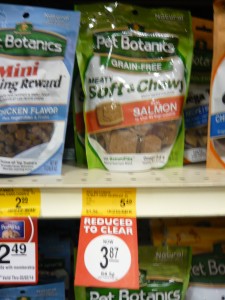 Pet Botanics grain free treats 3.87 use 0.50/1 Pet Botanics treats (from this flyer found at Petsmart) to get them for 3.37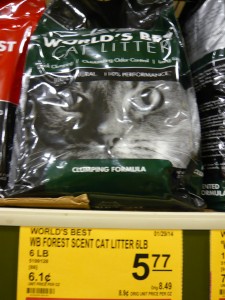 World's best cat litter 5.77/bag, use  3/1 WBCL printable or here 3/1 WBCL printable to get it for 2.77/bag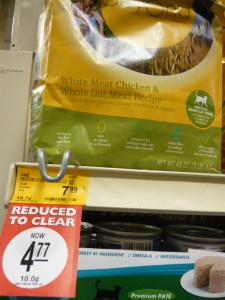 Purina One cat food 4.77/bag, use 2/1 Purina One cat food printable to get it for 2.77/bag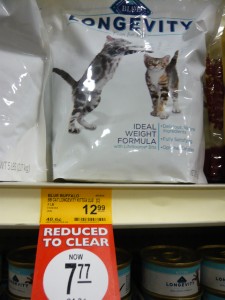 Blue Buffalo cat food $7.77/bag, this is a super price even without a coupon. Some of us may have 5/1 coupons from writing to the company! Also watch out for Blue reps roaming the stores. We always make sure our human asks those folks for coupons! You could also combine with the Iams cans mentioned above to offset some of your cost!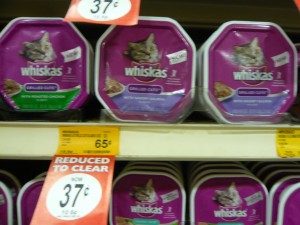 Whiskas wet cat food 0.37/tub, no coupons that we know of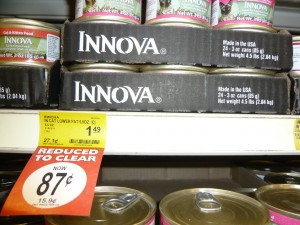 Innova wet cat food 0.87/can , no coupons that we know of
Don't forget to use your 5/25 Petsmart coupons, to make any of these deals sweeter!! You can come up with all kinds of scenarios depending on what you can find in store!!! In any case it should be pretty easy to keep your out of pocket fairly low, especially if you are able to mix cat and dog deals!
Don't forget to also check out the following deals and scenarios we already posted:
Nature's Recipe Biscuits (still on markdown but coupon is expired)
and while you are at it, grab a couple of these coupon flyers found in store!
We recommend to head there SOON, as the stores will reset by the end of the week, according to a store manager the human talked to. Plus some of these deals are bound to go faster than Linus chasing a fuzzy mouse and he's pretty speedy!
Bring all your pet coupons in case you find deals that we have not spotted and be sure to let us know on facebook or via the contact form on this page if you find anything awesome, so it can be shared with our cat and dog friends on the interwebs!!
Happy Deal Hunting!!!