In case you missed this awesome freebie when we first posted it last week, it is still available to print!
FREE trial size of Nature's Variety Instinct Raw Bites or Medallions pet food!!
Head over here to print your free Instinct Raw coupon! What an awesome FREEBIE!!
Coupon says "limit one per customer" and exp 10/31
You can also score a high value 5/1 Instinct Raw Bites or Medallions coupon here!
This one expires 11/30! Much better than the 3/1 coupons we have found in the store!
Instinct Raw has both dog AND cat food and can be found in a little freezer in the store (see below pic for what to watch out for)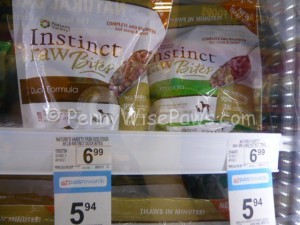 Go here for a list of stores!