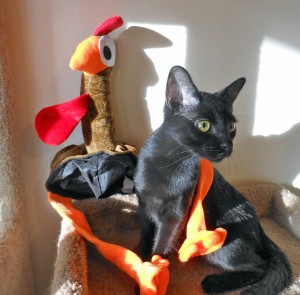 Happy Thanksgiving to all our friends with two paws, four paws and even those with fins!!
Here are some tips how you humans out there can keep your pets safe during Thanksgiving:
Space:
If you are going to have a bunch of guests over for Thanksgiving, your pets could get overwhelmed with the change and noise. If you can set up a room with your pet's favourite items so that he or she can get away from the party if it becomes too much.
A safe room can also protect your pet from escaping out of the front door when it is repeatedly opened and closed for guests.
If visitors bring their own pets over, do the introductions slowly and with supervision.
Food:
Do not feed your pet poultry bones, as they can splinter and get caught in the throat or cause perforations further down in the digestive tract.
It is wise to stick to your pets usual diet, as high fat foods such as gravy, liver, kidney, or giblets can cause an upset stomach, and could even trigger pancreatitis.
Onions in gravy or stuffing can be poisonous to both dogs and cats. Sage can be very upsetting to a cat's system if ingested.
Don't offer your pet raw or undercooked turkey, it may contain salmonella bacteria. Meat that sits out at room temperature for too long can contain salmonella and should be avoided.
Raw bread dough is not a treat! According to ASPCA experts, when raw bread dough is ingested, an animal's body heat causes the dough to rise in his stomach. As it expands, the pet may experience vomiting, severe abdominal pain and bloating, which could become a life-threatening emergency, requiring surgery.
Decoration
Consider an alternative to using holiday candles. Your pet could knock them over, and could get burned or start a fire.
Place floral gifts in a separate area away from your pet, until you know for sure if they are cat or dog safe. Many plants, such as the lily, are toxic to cats or dogs. Here is a link for more poisonous plants: http://www.aspca.org/pet-care/animal-poison-control/toxic-and-non-toxic-plants
The best tip of all: If you have room in your heart and home to adopt a homeless kitty or doggy as a permanent family member, what a wonderful way to show your compassion and love! Here's a link to our buddies over at Meowness that would love to be furever home for the pawlidays!
Picture: Courtesy of Meowness!!
Partial text credit: Meowness and ASPCA!
Pictured is our friend Olivia, who has already found her furever home, but with so many homeless dogs and cats out there, we are sure the purrfect friend is waiting for you at one of the many rescue organisations in the valley.