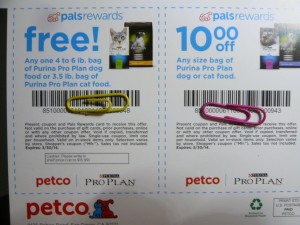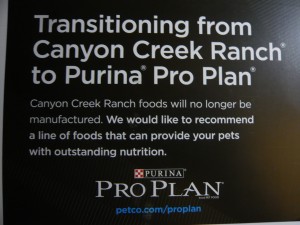 Wowza check out this awesome mailer we received from Petco for a Free bag of Pro Plan cat or dog food and 10/1 any size bag Purina Pro Plan cat or dog food!
Very smiliar to the printables available a little while ago, that expired last weekend.
The mailer also says that they are discontinuing Canyon Creek Ranch (we had found lots of markdowns on CCR in the stores recently, so no surprise here) and they are suggesting Pro Plan as an alternative!
Honestly we don't mind! The CCR coupons were notorious for either not scanning, scanning expired in 1954 or 1969 (which raises eyebrows with cashiers) or only taking off 2 cents when they should have taken off several dollars….so we won't miss those one bit, LOL! And then there was a recent recall on the CCR treats on top of that!
We'll gladly take a another free bag of Pro Plan as a consolation for our past troubles with CCR though 😉 Thank you very much Petco and Purina!
But this was not the only surprise in our mail, we'd also like to thank Stacy G, Harley, Kittie T and their gang (who own Mariah) and Katie (who owns Holly) for awesome surprises we received by mail!!!
We love these surprise envelopes!! We really could not do what we are doing without the help of all our friends!! Meows and purrs to you!
We had some wonderful trades come in as well and we are always grateful for the people who trade pet coupons with us!!!
Thank you all, we'll send that human shopping, yeah!!