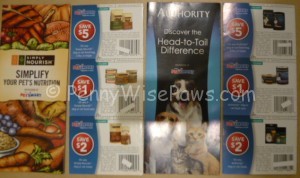 The human lucked out and ran into the coupon fairy at Petsmart.
Petsmart regularly promotes their store brands Simply Nourish and Authority and we have gotten some wonderful deals with these store
flyers in the past. They are hard to find and if you don't happen to be there, when the petsmart coupon lady is there, you are mostly out of luck.
She was in the store today to distribute flyers for Simply Nourish, so the human asked here if she also had any for Authority as we had not seen them
in a long time.
We really lucked out, as the lady actually went and got the human a couple of authority Qs too!!
We are holding on to those coupons right now, as they are good through 12/31. Often times awesome deals can be had with them.
So if you see some, grab some for yourself!! And if you don't need them, grab them for us, LOL!!!
The Simply Nourish Flyer has
5/1 Simply Nourish dog or cat food 6 lbs or larger
1/3 Simply Nourish cat or dog cans
2/1 any treats
The Authority Flyer has
5/1 any Authority dog or cat food 8lbs or larger
3/1 Authority cat or dog cans
2/1 Authority any treats
All are Petsmart store coupons and exp. 12/31!!
There is also a tearpad in store for 3 free authority cans (cat food) wyb 1 bag (any size)
We still have a couple 5/1 Authority Qs that say Manufacturer coupon, so it will be interesting to see
if they can be stacked!!
In any case we see good deals in our future 😉