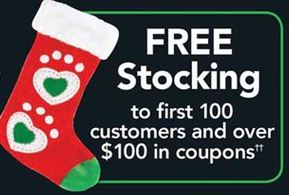 We have been holding off to post this in hopes to find out what will be in these stockings, but so far no luck!
In case you are planning to head out early to shop on Black Friday, you want to head to Petsmart. They are giving out Free Stockings with $100 in coupons to the first 100 people through the door!
We are pretty sure our human won't be one of them, but if you are an early riser, this might just be the thing for you!
While at it, don't forget the smoking deal on Tidy Cats litter on BF at PM, that we posted a little while ago!!
A few other good deals we see:
2.49 Nature's REcipe dog biscuits, use Petco Store coupon 3/1 Nature's Recipe Grain dog biscuits through 12/31 as a competitor coupon to score them free (YMMV on the markdown, so we suggest to have other items in your basket)
2.49 Science Diet dog treats, use Petco Store Coupon 1/1 Hill's Science or Ideal Balance dog treats though 1/15/14  as a competitor coupon to score them for 1.49 OR if you have the 2/1 Tearpad from the Petsmart coupon fairy from a while back, you could get them for 0.49!
Thank you BFads!!