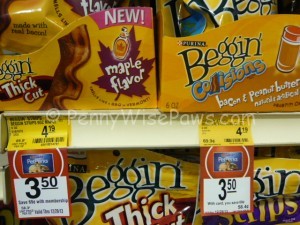 The new 3/1 Purina treat coupon we scored earlier today, will get us some great deals at Petsmart, especially with the 15% F&F discount this weekend!
Beggin strips are 3.50 each = buy two
use
B1G1 Purina Beggin, Any 6 Oz. – 11-24-13 RP – valid up to $3.75 and stack with 3/1 Purina treat coupon
and 15% F&F Petsmart store coupon
pay only 43 cents plus tax for two (the F&F comes off of the final price) = 21 cents each!
or
ProPlan Biscuits 3.99 each = buy one
use 
3/1 Purina treat coupon
and 15% F&F Petsmart store coupon
pay only 84 cents plus tax
or
ProPlan Training Treats 4.50 each = buy one
use 
3/1 Purina treat coupon
and 15% F&F Petsmart store coupon
pay only 1.28 cents plus tax
or
Purina Busy Bone 3.50 each = buy one
use 
3/1 Purina treat coupon
and 15% F&F Petsmart store coupon
pay only 43 cents plus tax