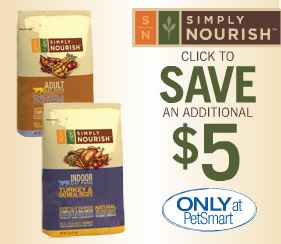 We just found out about this 5/1 any Simply Nourish dry cat or dog food printable coupon exp 11/9
We have not sent the human to Petsmart in a while, but between this, the 5/1 Authority from a couple of days back and a 5/25 competitor coupon we have,
we should probably have her head over there rather sooner than later.
Cat varietes start at only 7.99 and dog varieties at 9.99. With this coupon you can score the for 2.99 or 4.99 respectively.
Not a bad deal!
Last time we had these, the human found tearpads in the store for free cans wyb dry food, so we'll definitely send her over to check!