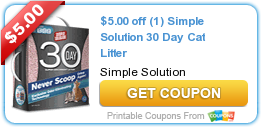 Simple Solution 30 day cat litter just released a high value $5.00 off (1) Simple Solution 30 Day Cat Litter printable coupon.
This stuff is currently only available at Walmart and online on Amazon and a couple of other online pet stores.
The smallest box is about $16, so you won't score super cheap litter, but if you want to try something new, this may be a good option.
While you are at it you may want to grab this new $0.50 off (2) Hollywood Stars Dog Treats printable coupon as well!
This post contains affiliate links, please refer to our disclosure policy!