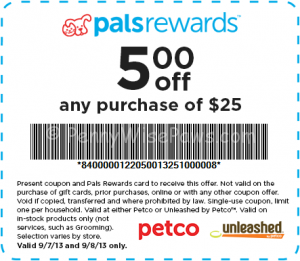 If you haven't done so yet, go ahead and bookmark this link
This is where Petso usually publishes their monthly 5/25 coupons and they usually come out with one every month.
Occasionally the link changes when they change the pet in the pic, but that does not happen too often.
The next adoption weekend after that will be Oct 5-6!
Usually the new coupon is up right after the old one expires, but you won't be able to use beforehand.
Don't forget to check out our scenarios!!
For more information about coupon shopping at Petco check out our Petco Info page!