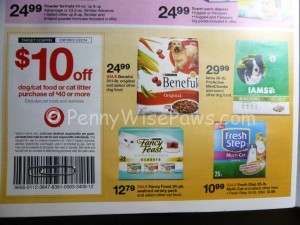 Have you used your 10/40 of pet supplies at Target yet?
Today 3/22 is definitely your last chance to head to the store.
You can find some suggestions for cat deals here or check out the dog food scenario.
The human did four transactions last night and did VERY well! She did not used to like couponing at Target,
especially not for larger transactions, but this indeed went really well!!
She also used one of her Target coupons as a competitor coupon at Petsmart, without any issues!!