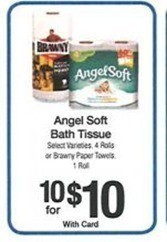 Our human saw this on the East Coast matchups a few days ago, but wanted to wait until her favourite Phoenix area blog confirms that we are getting this deal as well.
Starting Wednesday 18th Fry's has Brawny Single Roll for $1.00 – FREE (after coupon will be taken to $1 in Phoenix area)
Brawny Single Roll Paper Towel $1
$0.55/1 Brawny paper towels 09/15/2013 RP Insert (exp 10/15/2013)
Final Price= FREE after coupons are taken to $1 (max 3 coupons!)
Paper towels are on the wish lists of many rescues out there, so in case you are headed to Frys you might want to pick up a few to help a rescue of your choice!!
Thank you TheCentsableShoppin!