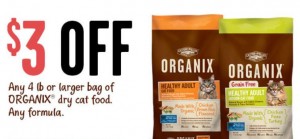 Castor & Pollux just released some new printable coupons on Facebook for their Organix brand.
This is a great brand and we rarely ever get coupons for it other than when you luck out and run into the rep at Petsmart.
Head over here to print yours:
3/1 any 4lb or larger bag of Organix dry cat food any formula
BOGO any 3-5.5 oz of Organix wet cat food 
Make sure you grab the US coupons, because there's also Canadian ones and those won't scan here in the US!
Unfortunately no prints for the treats. The Organix treats are one of the few brands Emily actually likes, whereas Linus eats any treat, including dog treats if he can get his paws on them, no matter which brand 😉
Organix wet cat food ranges from 0.87-1.67 at Petsmart, so only 44 cents a can after coupon
Organix dry cat food ranges from 14.99-19.99, so starting at 11.99 after coupon
Unfortunately we don't have a $ off coupon at Petsmart right now to sweeten the deal, but if this is your brand of choice, you are at least getting a nice discount!
Don't forget to check the markdown section, last time the human was at Petsmart, she did see both Castor and Pollux as well as Blue Buffalo food marked down at 7.77!
If you can find a marked down bag like that, this printable coupon will make it a killer deal!