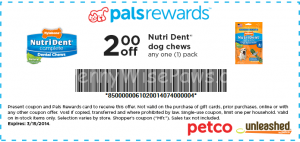 We have a new printable Petco Store coupon 2/1 Nutri Dent Dog Chews through 3/15/14
We don't quite recall the price at Petco, but we'll have the human check it out.
We have seen the small packs at Petsmart starting at 3.99 so you'd get them for 1.99 if you use this as a competitor coupon.
We have also updated the recently posted Petco coupon roundup to include this new coupon!