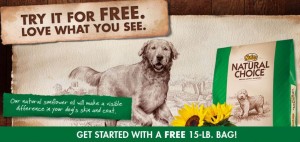 The human found a mail-in rebate tearpad at Petco and Petsmart, when we had her do our year end shopping.
This rebate is also available online in case you cannot find the tearpad in store. Go here to print and find more details.
This is what you have to do
Purchase a 15-lb. bag of NATURAL CHOICE® Dog Food between 12/30/13 and 2/2/14.
Print and complete the official rebate form below.
Remove the Proof-of-Purchase/Universal Product Code (UPC) symbol from the outer package of your 15-lb. bag of NATURAL CHOICE® Dog Food.
Circle the purchase price on your original cash register receipt that's dated between 12/30/13 and 2/2/14.
Mail your completed rebate form, proof-of-purchase and the original, dated register receipt to: P.O. Box 49137, Strongsville, OH 44149-0137
Your request must be postmarked by 2/16/14 and received by 2/21/14.
This is an awesome freebie to have, especially if this is your brand of choice anyways. These bags are priced at $ 35-40, depending on which store you purchase from.
We have had issues with NUTRO rebates before, so we recommend to
– NOT use your loyalty card when purchasing the bag IF the sale price differs from the shelf price (you should be fine to use your card when the product is not on sale)
– NOT use any coupons on your purchase and not buy other items, you purchase with coupons on the same receipt
– Make sure you send in the UPC and that the UPC matches exactly what you circle on your receipt (in case you bought different varieties)
– Document your rebate real well (take a picture or make a copy) before you send it out.