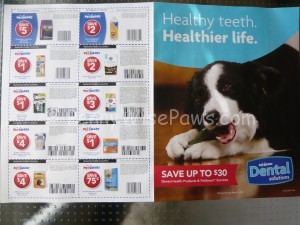 If you are heading to Petsmart this weekend, watch out for this coupon booklet in store!
It has tons of awsome treat and pet food coupons, some of them match up great with this weekend's deals running through 2/17!
1/1 Dentastix = making the Dentastix 1.50 (they are on sale for 2.50 right now)
or
3/1 Science Diet Dog or cat food, all varieties, making the dog food only 4.99 (on sale for 7.99 right now)
We'll have the human post a full list of the coupons later!