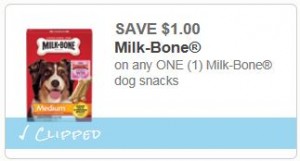 We have oodles of new printable pet coupons on coupons.com
Head over here to print yours !
Often times coupons reset at the beginning of the month, so we suggest to print these quickly, chances are we are going to get a new set of them once they reset in February.
We especially recommend the Milk-Bone Snack prints, as we have a catalina for them that started yesterday
Del Monte Milk Bones (1/27/14 – 2/23/14)
Buy 2 participating products, and get $1.00 off next shopping order or
Buy 3 participating products, and get $2.00 off next shopping order or
Buy 4 or more participating products; get $3.00 off next shopping order
They often go on sale at Frys for 2.50 a box, so the catalina and the coupons will make for a good sale. We'll definitely have the human check on the price! Update: Pricing on 1/28 was 3.99, so let's keep our paws crossed, that they'll go on sale real soon!
We also have a load of Fancy Feast coupons and we'd recommend to print at least the 1/4 FF Appetizer and the  1/6 FF Mornings coupons, as they may make for good deals!
Thank you for helping to support our blog by using these links to print.
Please refer to our disclosure policy!