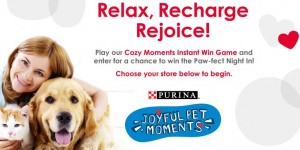 Remember,  you can  enter daily through Feb 8 to win dog or cat food with the Joyful Moments Instant Win Game from Kroger.
So go here for a chance to score a free pet item, that you can load to your shoppers card ( chose your local Kroger type store, Frys for us here in AZ, Ralphs for the Cali folks!)
You do need a Kroger group of stores shoppers card in order to claim your prize!