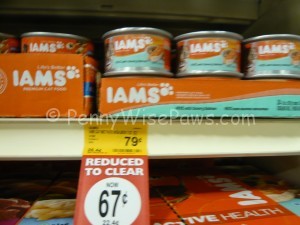 The awesome IAMS printables on coupons.com we had a little while ago, have reset:
These make good deals at many stores. 2/3 Iams wet cat food makes the cans free at Petsmart (76 cents/can) and better than free at Frys (60 cents/can), Target (59 cents/can) or Walmart (58 cents/can).
Easy way to reach thresholds to best use our 5/25 printable Petsmart coupon or any loadable $$ off Frys coupon you may have previously loaded on the card (NLA from last Wednesday, but we may get one tomorrow, paws crossed).
While at it don't forget to also grab the
….oh well, just print all the pet Qs 😉  if you think you'll use!!
There's a load of good ones this time around!
Thank you for helping to support our blog by using these links.
Please refer to our disclosure policy!