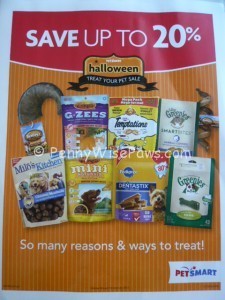 We sent the human to Petsmart this week to check on some things and she came home with this coupon booklet.
Most coupons in it are manufacturer coupons expiring 10/31
1/1 any Dentastix (those are 3.49 at Petsmart right now, so 2.49 after coupon)
3/1 Zuke Z Bones edible grain free dental chews (16.99/bag, so 13.99 after Q)
25% off any nutrident edible dental chew medium pouch 4.75 value
1/1 Happy Hips or Vitality Dogswell Jerky Strips (11.99/bag, so 10.99 after Q)
0.25/1 Catswell Vitakitty Cat Jerky 2 oz (2.50/bag so 2.25 after Q)
2/1 Milo's kitchen home style dog treats 18oz or larger
2/1 any Milk bone Trail Mix 20 oz (8.99/bag, so 7.99 after Q)
1/1 any pouch of Bil-Jac dog treats 10 oz or larger (5.99, so 4.99 after Q)
1/1 any charlee bear dog treats 16 oz package (5.49 so 4.49 after Q)
1/1 Zukes' natural purrz or gee zees cat treats (2.50 so 1.50 after Q)
1/1 Hill's Science Diet or Hill's Ideal Balance dog or cat treats (2.50 for cat treats so 1.50 after Q, and 4.79 and up for dog treats, but we have a Petco Q to stack as a competitor Q 2/1 for the dog treats)
0.75/1 Nutro crunchy treats 10 oz or larger (4.99 so 4.24 after Q)
1/1 Any Dentley's Nature's Chew or Rawhide (starting at 1.59 so 0.59 after Q)
1/1 any Kong Chewey Treat or rawhide (4.99 so 3.99 after Q)
only store coupon in there is for IAMS shakebales 2 for $5, can be stacked with manufacturers coupons,
there are some rare 1/1 mailers out there, making these 1.50 after coupon, but we are not aware of any easily accessible insert coupons.
In any case try to get a hold of these coupons next time you are headed to Petsmart, most of them are MQs, we can use them at Petco. The ZUKE treats as well as the NUTRO treats and the BillJac have been spotted on clearance, so these might make a good combination for some!!