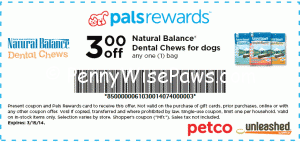 Right in time for the 5/25 weekend, Petco issued a 3/1 Natural Balance dental chews any one bag Petco store coupon exp 3/15 , which stacks beautifully with the 3/1 NB any dog dental chews treats we posted about last week!!
Now these are not cheap, they run 16.99 at our store, but these are high quality grain free chews, so $6 off is a good deal. Especially if you throw on a few other goodies (like the freebies) and get to $25 to use our 5/25 coupon this weekend.
Our store has select dog treats on a B2G1 Promo right now through 3/15, we know the Canidae treats and some other high quality treats are included, so the NR may be part of the promo. We will have the human check for sure.
If they are a participating item, you could even score three packages at a very good prices, combining the store coupon, manufacturer coupon and the 5/25!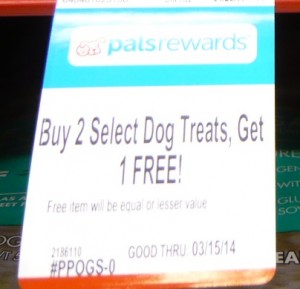 We will update the Petco printable list published a couple of days ago and add this coupon.