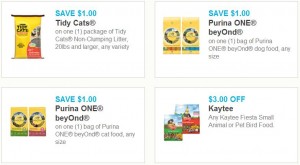 In case you have not noticed, we have a bunch of new printable pet coupons on coupons.com
There's a 1/1 Tidy Cats nun clumping litter
1/1 Purina One Beyond cat food
and many others !
Whereas the first three are not superhot, they may become great stacks if we get matching Target Coupons or other store coupons.
The 3/1 Kaytee gives overage at Walmart (when bying the smallest Kaytee items), that can be applied to other pet food!
Thank you for helping to support our blog by using these links to print.
Please refer to our disclosure policy!