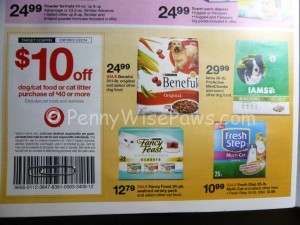 We are admittedly not the biggest Target fans on the planet, just the thought of couponing at Target makes the human twitch,
but we'd do anything for a good pet deal 😉
In today's Target ad we are getting a $10 off $40, we'll have the human see if she can work out some scenarios with some relatively common coupons.
This coupon excludes treats and rawhides, but does include litter and food.
It's not going to be easy though, as Target registers automatically limit the number of like coupons to four (that is a max of 4 like coupons per transation!)
So you either have the choice to buy fewer higher priced items and pay a higher oop, or buy lots of different lower priced items to be able to use different coupons in sets of 4.
We are thinking of B5G5 Sheba insert coupons, BOGO Meow Mix prints, 1/2 Cesar insert coupons etc. If you have some freebies, now would be a good time to use them.
We'll have the human price check and post a scenario as soon as possible, not sure if it's going to be today though!