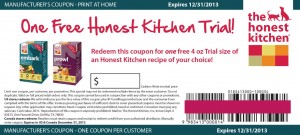 We had this freebie back in September and it looks like it's available again.
While supplies last you can enter your email address and they will be emailing you a coupon for a free sample of Honest Kitchen Pet food, redeemable at your local Honest Kitchen reseller.
Last time we got a voucher, this time it is a real coupon with scanable barcode.
This is a high quality food so we are excited about this offer. Go here to find a store near you (website) or on facebook!
You can also redeem the coupon online (the email will have a link with instructions), however shipping cost will apply!