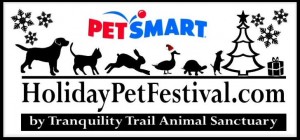 We strongly recommend this awesome event organised by Tranquility Trail Animal Sanctuary
Saturday, December 7th, 2013
10am to 5pm
@ WestWorld of Scottsdale
The human has attended a couple of years in a row and loved it! Lot's of great vendors, tons of rescues and great activities
This is also sponsored by Petsmart and we were able to score a few really great coupons and samples for our donations in the past!!
You can even bring your pet if you think your pet will enjoy it!! We'll stay home and take a cat nap, but we'll be sure to send the human!!
Head over here to find out more!
We encourage everyone to bring
ONE WISH LIST ITEM
for the participating
Animal Rescue Organizations.
————————————————————–
Thank you for helping animals in need!

Click here to view the Wish List