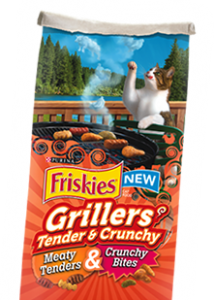 In case you missed this, when we posted a few weeks ago: much to our amazement this is still available!
Pounce over here for a shot at a free Friskies Grillers COUPON
Small print says:
Good only in U.S.A. Void where prohibited. Allow 6 to 8 weeks for shipment. Limit one per household and mailing address. P.O. Box address not accepted. No purchase necessary. Open while supplies last.
It was not quite clear if it's going to be a coupon for a free item or or just a free coupon and meanwhile it has been confirmed, that it's just a 1/1 Friskies dry food. That said, we do have coupons at target.com for Friskies to stack these with.
So whereas not free, we might still be able to get a deal on them.
We just wish the wording had been clearer.
Thanks you Harold for letting us know about the 1/1 coupon!