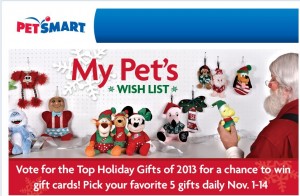 Today is the last day to enter the Petsmart Facebook sweepstakes!
Go here to vote for your favourite gifts for a chance to win a gift card!
Winners will be drawn on 11/16
In the second part of the sweepstakes 11/18-27 you will be able to win actual products !
Limit one Sweepstakes entry per email address, per Facebook ID, per day.