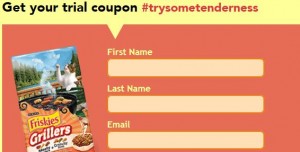 Friskies is offering a coupon to try their Friskies Grillers dry food. You can go here to request yours!
These have been mysterious in the past, as Friskies is never clear, what your going to get.
Last time they offered a "free coupon", all we got was a 1/1 whereas many people understood this was for a free bag.
We don't know what we are going to get this time, as they are being cryptic as always, so please don't be disapointed if you only get a $ off coupon instead of a freebie!