We were sitting on a bunch of good Target coupons expiring 12/31, so today we sent the human to Target among other places to make best use of them.
The holiday packages of Party Mix were not marked down, but scanned 50% off (regular price 1.52) at 76 cents.
There is a 1/3 Target coupon to stack with a 1.50/3 Manufacturer printable, making them FREE wyb 3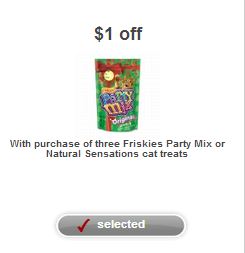 Some of us also have B2G1 Target coupons from inside the TC cat litter tubs and 0.50/1 Friskies treats peelies from various places.
There was also a recent insert 1/2 Purina Friskies Or Whisker Lickin's Cat Treats, Any – 12-08-13 SS, as well as older inserts with 0.50/1 (11/17 SS and 10/27 RP)
If you are a frequent Target shopper and use cartwheel, you can get an extra 5% off to stack as well, but you won't really need it, as the stack already gives you the treats for free wyb 3.
All in all the human did well. We got about $85 worth of pet food and treats for  about $8 OOP after TQ and MQ stacks, not bad 😉
If you have BOGO Sheba coupons, Sheba is currently 0.52 cents/can and we have a 1/6  TQ (11/24 RP) making them 8 cents each wyb 6
If you have B2G1 Beggin Strips from the variety packs that Target sold earlier this year, those make a great stack with the 3/1 Purina treats coupons. Beggin Strips are 2.50 each right now.
So essentially free with some overage (may be applied to other items in your basket).
We'll have to send the human to another store this weekend, maybe we can find some more last minute deals 😉