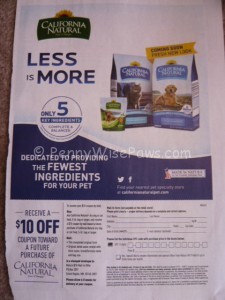 In today's inserts there is a flyer to request a 10/1 coupon for California Natural
You have to first purchase a bag and send in the UPC filling out the info in the flyer, in
order to receive this coupon in the mail!
We had a similar flyer for EVO in our paper a few weeks back.
Both these brands belong to INNOVA (recently acquired by P&G) and both brands were part of a recent recall.
If this is your brand of choice, that's certainly a good offer.
They are probably trying to restore their customers trust, after the recent recall that was expanded twice.
We will probably pass on this deal for now, but if you like and use this brand, you might want to look into this offer!