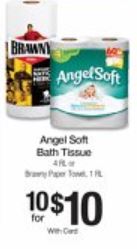 All the rescues we donate to, go through insane amounts of paper towels. That's an item very high on their wish list.
So if we can find a deal on them, we always pick some up to donate and most of our donation drop offs include paper towels.
So we are excited that Frys has Brawny on sale this week 10 for 10 and we have a coupon: 0.55/1 Brawny Paper Towels, Any Pack (Limit of 3 Like Coupons Per Household Per Day) – 09-07-14 RP  with no size restrictions, that will make those free.
We also have printable 0.55/1 coupons here and here!
Frys will take up to three like items to $1, so you can get three of them for free on each trip.