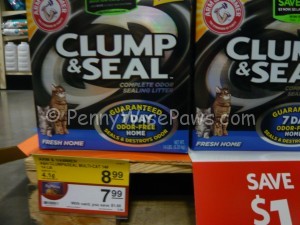 We had the human run into Petsmart real quick tonight to see how to best use the new 5/25 Petsmart coupon!
She spotted Arm and Hammer Clump and Seal cat litter on sale for 7.99 with $3 peelies on them.
We also have a $3/1 printable you can use!
Here's an idea:
Buy 3 A&H at 7.99 each = 23.97
buy 1 can of Wellness for 1.20 ea
= 25.17
Use 5 off 25
use 3x $3/1 printable  or 3x peelies if your store has them
FINAL price: 10.17 plus tax, so 3.39 per box plus a free can of Wellness
You can also throw own some of our Petco Freebies, if your store is good about taking competitor coupons
If you have other high value or freebie coupons, you can even score better.
We will go through the pictures the human took and see if we can find some better suggestions for lower oop scenarios!