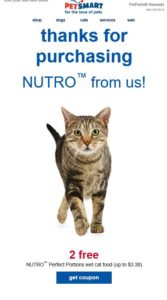 As we mentioned yesterday, the human scored some free (after coupons) Nutro cat food at Petsmart.
Today Petsmart sent us an email, thanking us for our purchase with an additional store coupon for two free Nutro perfect portions tubs!
Looks like we'll have to send the human back to the store today!
In case you shopped for Nutro recently, you may want to keep an eye out for that email, the subject line is "A big thank-you treat for trying NUTRO! Coupon inside".
Happy Shopping!!