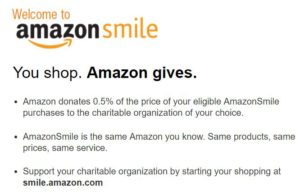 We are always surprised when we find out that there are still people who don't use their shopping to give a little extra to charities at no extra cost to them.
With all the Black Friday and Cyber Monday deals coming up, we figured we'd point it out again, for those of you who are not in the know!
Amazon has a donation program, called AMAZON smile, which gives a small percentage (0.5%) of your purchases to a charity YOU designate. No link or anyone can override that unless YOU change it! It's a super easy way to help out a charity YOU want to support, at no cost to you.
In case you don't have a charity designated on AMAZON smile yet, please go select one RIGHT MEOW!
We hear about people shopping on Amazon ALL THE TIME, without using Smile. WHY???? It's such an easy thing to do!
If you are not sure which charity to choose, please consider helping out Meowness, just search for them on AMAZON smile! They have a ton of unexpected expenses right now and can really use any extra penny!
It does not cost you a thing!!
Thanks for helping out charities in need!
Also, if you are looking for other ways to help, please check our our affiliate links to see if there are other things you may find useful!
Thank you!
Pennywisepaws.com is a participant of the Amazon Services LLC Associates Program, an affiliate advertising program designed to provide a means for sites to earn advertising fees by advertising and linking to amazon.com.