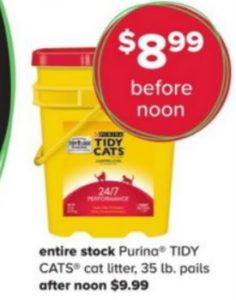 We hope, all of our furriends and their humans got to enjoy a great Thanksgiving.
Today is Black Friday and we may be sending the human to Petsmart to pick up some cat litter and dry food to help out the rescues.
If your human would rather chill with you on the couch, Petsmart has some great online sales going on today only:
Shop the Black Friday Sale and get up to 50% off! Free shipping on all orders on PetSmart.com. Valid 11/24 only

or
Get 10% off in-store pick up orders under $99 or 15% off orders $100+ on PetSmart.com.Valid 11/20 – 11/25
For us, shopping in the store usually results in lower out of pocket expenses, as the human has a stash of coupons saved up for just this occasion. But if you don't have coupons, why face the madness in stores, if you can shop the Black Friday Sale from the comfort of your own home on 11/24.