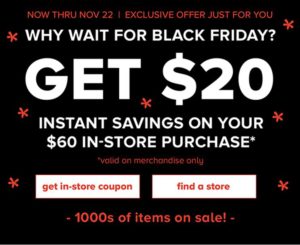 Wow, it seems like Petsmart really has missed us, look what we received in our email today!!
This is a personalised coupon, so we unfortunately cannot share, but you may have received the same,
so if you are signed up for their email, keep an eye out for an email titles "★Get $20 instant coupon! Why wait for Black Friday?★".
Unfortunately this is only through 11/22, so we won't be able to apply it to the BF deals, but this may help get in on a few deals early, taking the need away to shop BF at all.
For example kitty litter is 12.99 now, but 8.99 on BF. If we buy 5 pails now, the oop may be the same as on BF.
Unfortunately the human used up most of the Nutro coupons yesterday, those would have made some nice padding towards the $60.
Oh well, we are greatful for any and all deals, so we can help the kitties at Meowness.
In case you have not received these email, or prefer to shop online, here are a few online deals to consider:
Save 5% off in-store pick up orders at PetSmart.com. Valid 11/13 – 11/19
but if you can wait, the deals will get better starting 11/20
Get 10% off in-store pick up orders under $99 or 15% off orders $100+ on PetSmart.com.Valid 11/20 – 11/25
Happy Shopping!