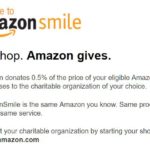 It's Cyber Monday and everyone is going crazy with deals. So far we have not found many deals we are absolutely crazy about.
But while poking around Amazon, we saw a few things at steep discounts, that may be of interest for some of our readers.
How about some nice cat furniture at reasonable prices:
And here's a decent deal on wet food:

We also have not seen Feliway this low in quite a while:

While you are at it, why not get your furry family members some toys:

As we mentioned before, Amazon has a donation program, called AMAZON smile, which gives a small percentage (0.5%) of your purchases to a charity YOU designate. No link or anyone can override that unless YOU change it! It's a super easy way to help out a charity YOU want to support, at no cost to you.
In case you don't have a charity designated on AMAZON smile yet, please go select one RIGHT MEOW!
We hear about people shopping on Amazon ALL THE TIME, without using Smile. WHY???? It's such an easy thing to do!
If you are not sure which charity to choose, please consider helping out Meowness, just search for them on AMAZON smile! They have a ton of unexpected expenses right now and can really use any extra penny! Thank you!